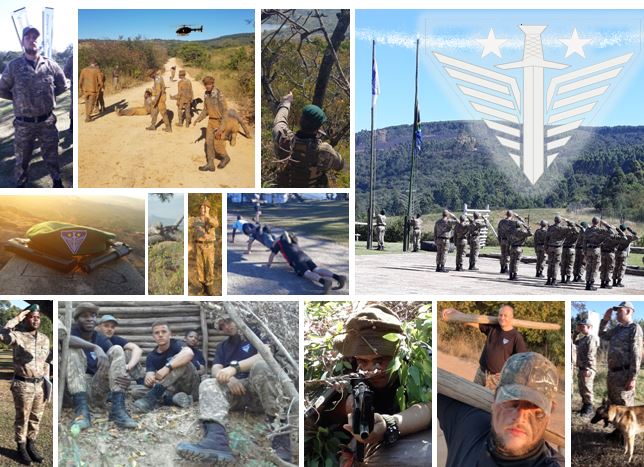 Famous People and Military Style EducationFamous People and Military Style Education
The meaning of military style education for Milites Dei Academy (MDA) is threefold, namely:
i) To up-skill those individuals that are already in the industry both private security and military by adding various civil accredited qualifications.
ii) To offer a gap year to students before they continue studies at universities with the added benefit that these students will for the rest of their life have a good military style basis.
iii) To offer an opportunity to people that always wanted action and a readiness for anything that life presents to them and note that MDA teaches students how to survive, be strong, fit, etc.
All three of the focus areas above instil precision, honour and toughness in the student and thus, this type of person will approach everything in life from that perspective. Consequently, such a person becomes a major asset for any company or organisation in any industry. Businesses have respect for individuals that comes from a military school.
Over the years, there have been many famous people who went to a military school and celebrities who went to military school did so for a variety of reasons. Some famous military school alumni went on to have successful acting careers while other famous people who went to military school are athletes. A few celebrity military school alumni even went in to politics. [Also, refer to https://www.ranker.com/list/famous-military-school-alumni/celebrity-lists].
Donald Trump was once a cadet at the New York Military Academy. He first entered the school at the age of 13. Owen Wilson attended the New Mexico Military Institute. JD Salinger reportedly used his time at Valley Forge Military Academy as inspiration for his book, The Catcher in the Rye. Broadway composer Stephen Sondheim attended New York Military Academy. Ward Burton graduated from Hargrave Military Academy as a first lieutenant. Conrad Hilton attended Goss Military Institute and New Mexico. In an interview, Larry Fitzgerald said:
"I was a piss-poor student in high school. Didn't apply myself at all. Very average. Just did enough to get by. Thought I was going to be able to just slide by on good looks and charm, which didn't work. That's what landed me at Valley Forge Military Academy."
In the United Kingdom, another long list of famous people attended military schools such as senior generals (Sir Archibald Nye and Gary Coward), famous musicians (Henry Lazarus), sportsmen (Maurice Colclough), many leading academic scientists (Professors Paul Shaw, Timothy Foster and Mark Gardiner) and clergymen (James Jones and Bill Ind) and a long list of decorated armed forces personnel.
Thus, way wait enrol now at Milites Dei Academy.
Also look at the MDA Facebook page for what awaits you when you enrol at this exclusive military style academy:
http://www.facebook.com/SPECIALIST.OPERATIVE/
http://militesdei.com/wp-content/uploads/2017/02/cropped-New-sword-logo.png
0
0
admin
http://militesdei.com/wp-content/uploads/2017/02/cropped-New-sword-logo.png
admin
2018-06-22 11:05:35
2018-07-12 10:47:05
Famous People and Military Style Education