Milites Dei Academy Student Recruitment
Milites Dei Academy specializes in Military Style Training Programs, from a Special Forces Training Perspective: CONTACT 0814788018 / amareza@militesdei.com
Milites Dei Academy offers different accredited modules and skills programmes, namely:
Click on a course below or scroll down to read more.
After the 3 month Course, completed students can work in Anti-poaching as well as Cruise and Cargo ships as security or in Private Investigations and the Specialised Private security industry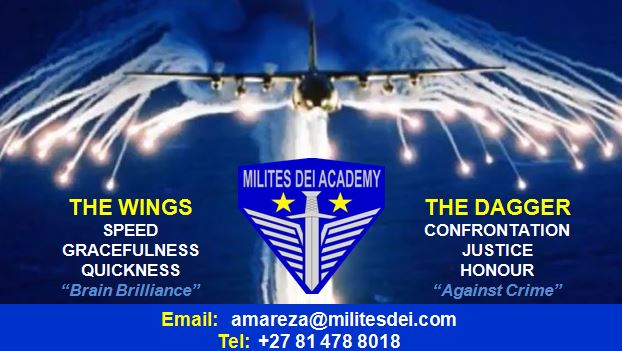 The Following Offerings for Schools:
Veldt School
Leadership Camps
Additional Offerings for Companies:
Part Time Classes
Team-Building Days or Weekends
About Us:
THE AREA – The Training Head Office is situated in the Sanderson House in Peebles Valley outside White River. The Bush Camp will host certain of the courses and is nestled in a Forest called Bush Camp Ego. One of the many statues found in South Africa was erected just outside the training venue. The statue of Jock of the Bushveldt is nestled on a hill with a view of the Legogote Mountain ranges and offers breathe taking views of the surrounding flora and fauna. Jock of the Bushveldt accompanied his owner, Sir. Percy Fitzpatrick when he visited the Sanderson family. Sir Percy wrote some chapters of his famous books in the Sanderson House.
THE OWNERS – Milites Dei is a Family Business and note that 70% of SA's GDP is contributed by family businesses. We are thus very proud to play our small part in that. Below is a summary of our expertise.
Bardo Buys is a co-owner.
Barney Buys is a co-owner.
Amareza Buys is the education specialist.
Linette de Beer is the sales and marketing coordinator.
The various blogs on this webpage tell a story of the academic depth that is part of the student's studies at Milites Dei Academy.
The various Facebook Pages is presented as story boards to show students what awaits them when they come to study at the academy:
http://www.facebook.com/SPECIALIST.OPERATIVE
You can also visit the LinkedIn Pages of:
http://www.linkedin.com/in/barney-buys-04b0a03a/
http://www.linkedin.com/in/bardo-buys-0abaa6a2/
http://www.linkedin.com/in/amareza-buys-17a7052a/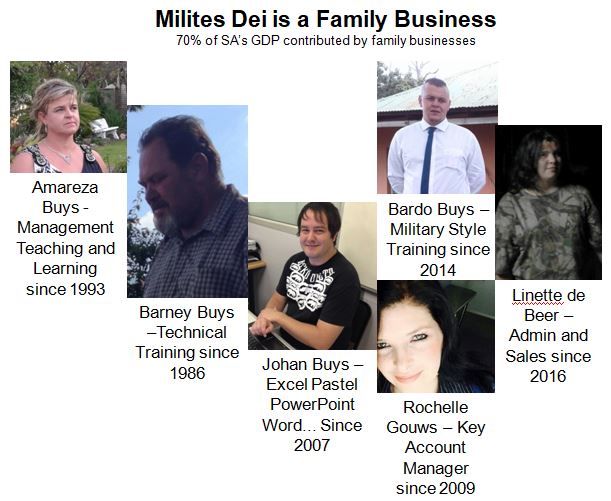 WHY DO YOU WANT TO BECOME PART OF THIS ELITE AND EXTRAORDINARY ACADEMY?
We think we are better than any other training company in this field because of the above and the following:
Milites Dei Academy (MDA) students already find a job after the three months basics as expert security operators, such as anti-poaching, they keep companies' goods safe in troubled areas, and they can track the spoor of intruders. The list goes on.
MDA have a 1083ha training area in nature outside White River in Peebles – you can see the map on our Facebook.
MDA have an urban tactical shooting range on the academy premises and two accredited shooting ranges in Peebles one with an underground bunker system.
MDA are situated within a nature conservancy.
MDA have a helicopter landing area on the academy premises.
MDA have instructors with more than 60 years experience in education in total.
MDA is a partner with Global Security Centre (Europe) and Israeli Protect – see the link https://www.gscentre.eu/news.
MDA's courses does not take a full year because after the three months basics you can choose a field that you are really good in, will give you a high income and which will make you a specialist in that area.
MDA instructors personally guide each student to be successful so that no one falls out of the course; the student becomes part of a caring family.
MDA fitness is extreme and each student is coached from whatever level of present fitness (for example, one of our present students was totally unfit and could not run a 2.4 but he is after 2 months on par and we are now working on this muscle tone and six pack).
MDA students are rewarded for hard work (with a rank) after each month of studying.
MDA will assist you for 2 years after training to find a high-income job…and again assist if you maybe are not satisfied within a certain job.
MDA has a brother system whereby the new student is linked with a successful student at the academy and a student already working in the field.
MDA also is very serious about giving students academic depth, although our courses are only 20% theory, see ALL the website blogs http://www.militesdei.com/blog.
You can also see on the MDA Facebook all the posts that will testify of the professional approach we take and each post is of our own students that completed a specific course (practical and real-life exercises makes 80% of the MDA courses).
Already in the three months basics the student are placed in businesses in our area for real-life work experience.
Lastly, we would motivate as follows:
"A picture speaks a thousand words" so compare us from all the pictures and posts on our fb page and website with other training businesses.
There is also a saying "hear it from the horse's mouth" we can put you in touch with one of our previous students via WhatsApp, to hear how he/she found it.